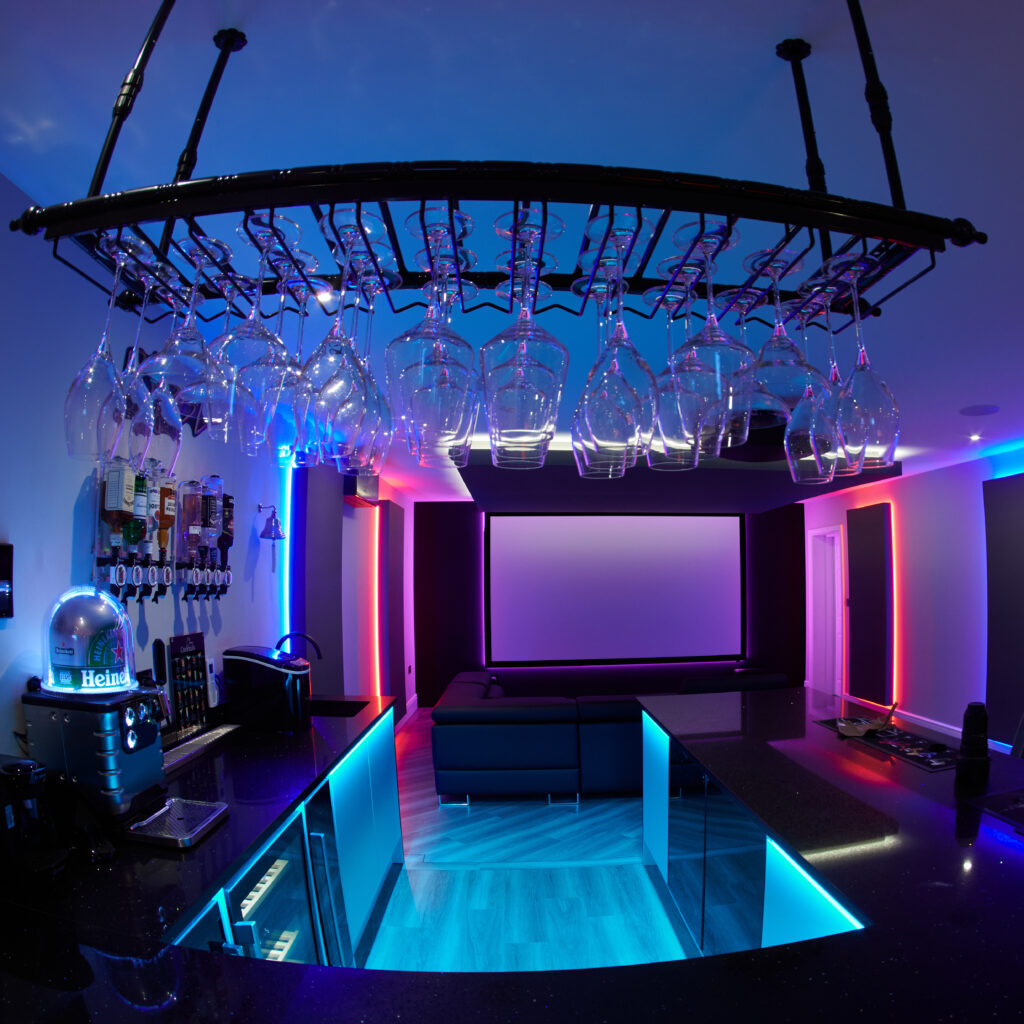 Our customer had just purchased a new house and was desperate for a room to enjoy with family and friends. Being self confessed party and movie lovers, they wanted to combine their love for the big screen, gaming and cocktails, and we were happy to oblige!
We installed a seriously high performing cinema area, speakers with integrated controls throughout the room and some awesome LED lighting.
The pièce de résistance with this room was our final surprise party trick – the 'Party Time' button! This one touch control, accessible via the in-wall touch screen, remote control or mobile app, triggers the LED lights to cycle through colours, all blinds in the room to close and our client's favourite music to start playing! Our customers were over the moon with the finished product and even invited us back to enjoy the room once we'd completed the build.
You can read a full coverage Case Study here: https://connect.awe-europe.com/one-touch-control-for-the-ultimate-party-animals-case-study/
To build this room we installed:
1 x 3m wide screen from Cinema Build Systems
Coffered profiles from Cinema Build Systems
Space frame from Cinema Build Systems
LED lighting from Cinema Build Systems
Rako lighting controls
2 x SVS 2000 Pro Subwoofers
1 x SVS 1000 Pro Subwoofer
1 x Sony VPL VW590 projector
1 x Sony KD50X85JU 50″ 4K HDR LED TV
1 x URC MRX-8 Total Control Advanced Network System Controller
1x URC TKP-9600 10" In Wall Touchscreen Controller
1 x URC TRC-1480 2.4″ Touchscreen LCD remote control
3 x Q Motion blinds
Combination of 18mm and 43mm adhesive back sound absorption
2 x Monitor Audio C280 in-ceiling speakers with BluCube firehoods
2 x Monitor Audio Vecta outdoor speakers
1 x Denon HEOS amplifier
TP Link 16-port PoE switch
Unifi AC-LR WiFi Access Point
Roku media streamer
Playstation 5 Games Console
Sky Q box